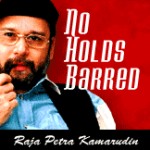 The Constitutional Conference, which was held in London from 18th January to 6th February 1956, was attended by representatives of the Malay Rulers as well as the newly-elected government of Malaya that won 51 of the 52 seats in the elections six months before that. And this government was the Alliance government of Umno, MCA and MIC. This, therefore, demolishes the argument that Umno negotiated Merdeka. It was actually negotiated by a coalition of Umno, MCA and MIC. And this Conference was the basis of Malaya's new Federal Constitution -- the handiwork of the Chinese and Indians as well.
NO HOLDS BARRED
Raja Petra Kamarudin
There is now an urgent need for people on both, indeed all, sides of this question – and all Malaysians generally – to understand what exactly those agreements now designated as "the social contract" in fact were.
Malaysians need to reach a historically well-founded consensus concerning "the social contract", what its terms were at the nation's formative moment and in its founding experience, and what it means today and for the future. The coherence, strength and political sustainability of the nation require no less.
'Ketuanan Melayu' not part of the deal
It needs to be widely understood that, whatever they provided and mandated, "Ketuanan Melayu" was not part of what those agreements enshrined. Any suggestion that Malay political domination in perpetuity, continuing Malay "ethnocratic" ascendancy over other Malayans (and now Malaysians), was any part of those foundational agreements now designated as "the social contract" is simply wrong.
Those who argue to the contrary that Ketuanan Melayu is a constitutionally guaranteed "foundational" component of Malaysia's national sovereignty and international public identity are disingenuous, mischievous, or simply ill-informed.
The attempt to "read back" subsequent notions of Ketuanan Melayu into ideas of "the social contract" and in that way to embed them within newly fashioned but quite dubious views of the constitution is simply an exercise in anachronistic revisionism. It is the duty of serious historians and legal scholars to say so. -- by CLIVE S. KESSLER, Malaysiakini